Most of the time internet explorer is slow because it has to load all those Adobe Flash based advertisments. Below are instructions on enabling and disabling on a per website basis. This way you can enable Flash when you are on a video streaming website like YouTube and off for all other websites.
* For Windows Vista and Windows 7 with Internet Explorer 9
Internet Explorer 9 has built feature called activex filtering. This feature disables features like Flash and Java.  First, enable ActiveX Filtering via the Tools Menu:
Tools > Safety > ActiveX Filtering
When you visit a webpage that contains ActiveX controls, IE will prevent the controls from loading. IE displays an icon in the address bar to indicate that the ActiveX controls have been filtered:

If you visit a webpage that contains ActiveX content you want to view, you can simply turn off filtering for that website. Click the icon to display the fly-out window.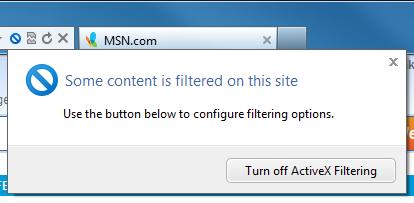 From here you can choose to turn off ActiveX Filtering. Once you take action, IE refreshes the page to ensure that all ActiveX content on the webpage runs. Now that you've turned off ActiveX Filtering for the webpage, the icon on the address bar changes state accordingly. After you've finished viewing the content, you can click on the icon and turn filtering back on if you'd like, or you can leave filtering off for this website.
* For Windows XP with Internet Explorer 7 and 8
Click on the link below for instructions on how to install a toolbar icon called toggle flash